Take the $ting out of stick glue! Use bulk hot melt! Better Quality – Less Cost!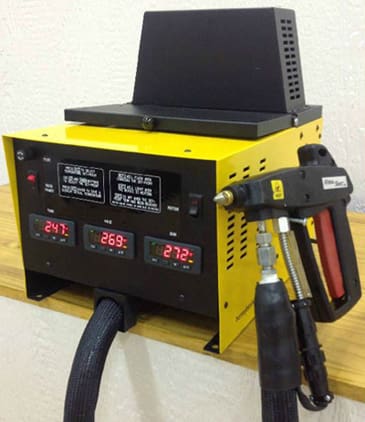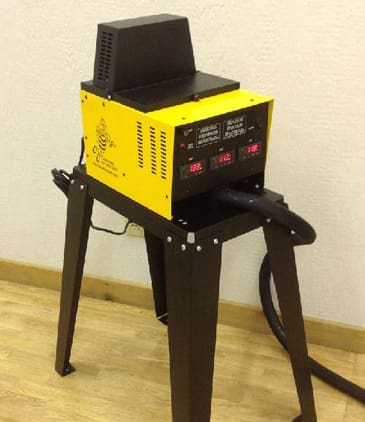 Honeybee Ready-to-Run Manual Hotmelt System
The Honeybee all-electric manual hotmelt applicator system is ideal for reliable packaging and product assembly. The Honeybee offers a fast and economical alternative to tape, cold glue and metal fasteners.
The system features a meltunit with a 7-lb capacity Teflon-lined tank, heated hose and handgun. The handgun comes equipped with a single orifice nozzle. The rugged construction of the heated hose includes a Teflon core reinforced with stainless steel braid.
The Honebee is easy to operate and maintain. Simply plug the system into an electrical outlet and allow it to warm up. After the initial warm-up, the pump switch on the meltunit control panel activates the electric motor-driven pump. A positive displacement gear pump delivers up to 30 pounds of adhesive per hour.
Adhesive flows under pressure through a heated hose to the handgun. Activating the handgun trigger allows adhesive to pass through the nozzle; releasing the trigger stops adhesive flow instantly. An adjustable flow control valve regulates pump output to meet application adhesive requirements. The meltunit and handgun/hose assembly utilize separate controls for efficient temperature control ranging from 100-375F.

Unlike stick glue, bulk hot melt will allow you to have hundreds of adhesive choices. Bulk hot melt is substantially less costly, is higher quality and you may already be using it on another line.
If you need bulk hot melt – we have it! EVAs, PSAs, Metallocenes, Credit Card Glue. All in stock! Call us at 317-841-1126.