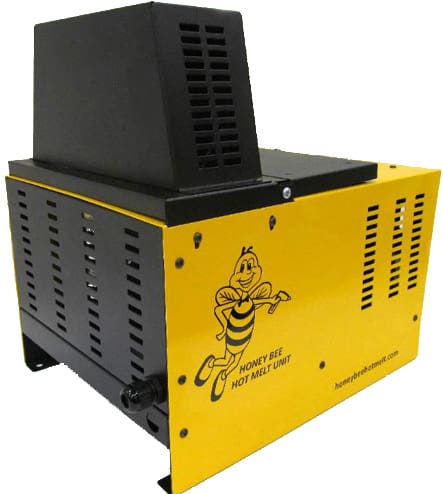 Features:
Simple all-electric design
Lightweight and easy to move
Adjustable temperature and flow rates
Fan-cooled 25rpm AC gear motor for long life
Performance:
Warm-up Time: 30 minutes
Melt Rate: 10lb/hr
Viscosity: Maximum 5,500cps
Operating Temperature: 100-375F
Tank Overtemp Switch: Protects the meltunit if the tank thermostat fails. 400F is standard.
Pump Warm-up Thermostat: Prevents the pump motor from operating until tank reaches a safe temperature. 250F is standard.
Pump Flow Output: Regulated between low and full flow by adjusting flow control valve.
Specifications:
Length = 15 in
Width = 12 in
Height = 15 in
Weight = 30 lbs
Volume = 7lbs